And so it is...  2016! really? wow!

It feels like it was just last Summer that my family and I were busy at the Santa Monica beach, looking on craigslist for one of those super fancy ultra juicers, and i was trying to figure out how to pack for a tour to the "rainy season" in Tokyo!!  (there is no rainy season in LA so i was baffled)... and now 2015 is long gone and we are well into the new year. 
So... Bowie passed away.  So sad. A real treasure has left us. So many great songs, but i really think Starman and the video for Ashes to Ashes touched me in a special way.  Also, love Soul Love and Panic in Detroit for some reason... sigh... and now, Alan Rickman! ughh... who's next?  Glen Campbell?  Hope not... Anyway, looking into the new year, I'll be back on the road with Herb Alpert and Lani Hall, hangin' with some of the Run Run Run boys at NAMM thanks to Gibson guitars, and now, there's even talk of a Bowie tribute with the Club Makeup (pre Tranz K/Zodiac era) rock star-studded drag queen fronted band dusting off their glam boots etc for a reunion show in February.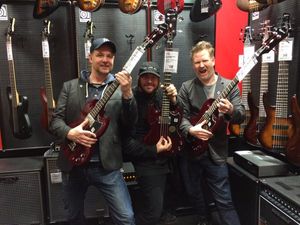 New Order have a great new record out, and we (Phil, Tom and myself) had a nice hang in LA last week.  Personally, I'm hoping to turn out a new single of sorts this Spring. Otherwise, i'm just Mr. Mom these days, and writing new material.  Happy life and family and music and i'm sure more great things to come soon in 2016!!