Forgive me padre it's been nearly 6 months since my last Blagh...  Let's catch up... 
February was just plain cold and nothing really happened, but then Run Run Run reunited and opened for New Order in the US last March (Brandon Flowers from the Killers was at our Las Vegas show), April was my birthday month which was good fun right up until Prince died.  Sad Sad Sad!!  Love his music still... "Starfish and Coffee", "Take Me With U", "Sometimes It Snows in April", "Diamonds and Pearls", "Hot Thing" were some of my faves..  The list goes on and on...

May started with a benefit show for Alzheimer's that I was able to work on behind the scenes that raised nearly $500,000.  June came and me, my girlfriend and our little one have enjoyed trips to the beach in sunny So Cal.  I've been laying low, and working up new music has been the prescription this Summer.  I just finally went back into the studio with Run Run Run producer Noah and Shain, Dj Whitney Fierce and some of the RRR boys.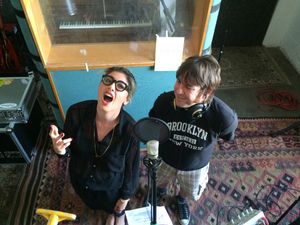 Eventually, a fantastic Kidz Pop song emerged that we're not quite sure what to do with.  By the end of the recording the band boys had been completely replaced by synths, drum machines and modern noises, bleeps and robot sounds!  But it's good fun so we'll see if the universe finds it a home. 

Be well and the next time I blagh, I hope there is a President who can spell benevolent and compassion, and the world settles down as it has gone completely mad recently...  Peace and love as Mr. Starkey likes to say!!!